Ben Fouladi is an MMA machine. Having grown up from a troubled past he has gone from strength to strength. He now hopes to represent Canada in the next I.M.M.A.F European Open Championships in the United Kingdom. Everyone I am sure will be cheering on Ben and wishing him all the success. He has raised 120% of his campaign total and he is a real inspiration for many.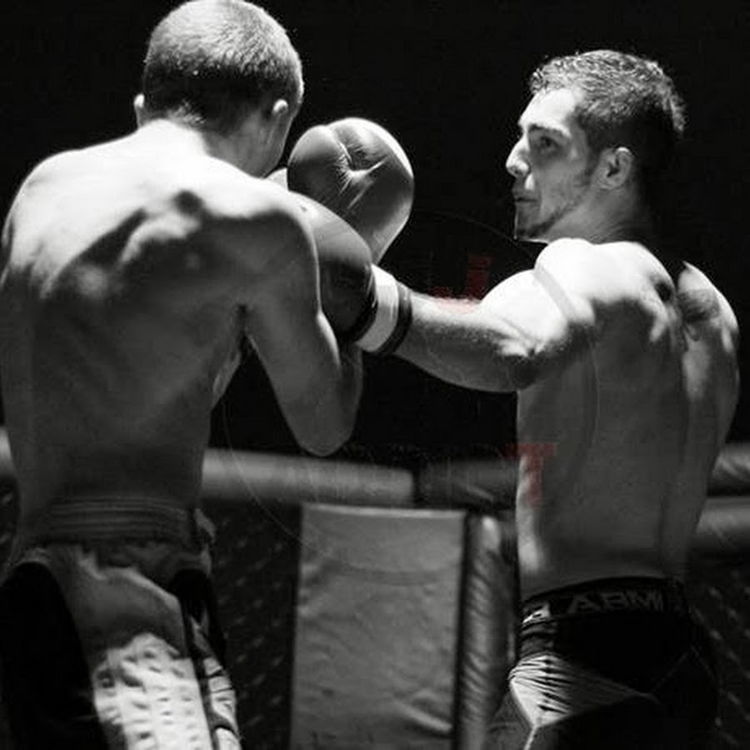 Q1) What made you start the sport you are currently training in?
I started boxing in high school, I had a really Troubled childhood growing up, hanging with the wrong crowd and not caring about anything and my boxing coach who was also my principal also challenged me and said if I was a man then I would let my anger out in boxing which I did 3 times a week with high school after school.
After a couple of years I really enjoyed watching UFC and said to myself one day I'd like to be a part of it and even just step foot in the octagon once and say I reached my dream and I fought for the organization.
Q2) What are the greatest challenges you face in your sport? mentally and physically?

The Greatest challenges I faced and still face was my break up with my ex after 7 years to chase my dream. We were not stable to begin with but I was madly in love I would do anything for her and I had to finally make a choice and choose to fight for myself and what I believed in. It was mentally and physically challenging having to leave that behind after living with her as well and also pushing away my friends and family to avoid distractions with eating clean staying away from alcohol and bad choices. It has in time affected me during my fight training camps while being together with arguing and fights even during the day of my fight, which now I'm in a clear blissful state of peace that I feel unstoppable from the sacrifices I've made in the past 6 months.
Q3) Do you have a prepared routine for training before a competition? How do you prepare on the day of the competition?

I wouldn't say i have a prepared routine for my training and competition but what I can tell you is that every fight I prepare for I try new things and adjust to change, I play with my diet my training routines with over training smart and now hurting myself, cutting weight and watching motivational videos such as dragonball z (Vegita my favorite character) ct Fletcher Edward Thomas and Connor Mcgregor.
The day before my fights or competitions I usually watch a motivational video like warrior or some UFC clips of highlights with my favorite fighters (Nick diaz,gsp ,connor mcgregor)
Q4) Which sport athlete do you idolize and why?
I would honestly say Nick Diaz and Connor Mcgregor the most. Diaz because he talks about fighting for himself and his life and being a martial artist makes him the best at what he has and loves which I always love to fight and seeing that it's a sport it can't get any better and with his amazing boxing and cardio I analyze all of his moment.
Mcgregor who is outstanding with his boxing and moment as well, when he talks people hate him for it but people don't see and understand the struggle and what got him to where he is, and researching him made me understand and got me obsessed with how he fights moves intimidates his opponents and becomes psychologically prepared which is 80% of the battle and only 20% physically.
Q5) What do you do during your free time? How do you like to relax?
After a good 2-3 hour training day or finishing work I really love to just go in a sauna relax for 10 min and then shock myself in a freezing cold shower, clears my mind and helps me relax, also watching dragonball z. Vegita especially motivates me so much with wanting to become the best fighter in the world and being so competitive with goku, even though he has lost so many times and knows goku is stronger than him, he still fights with him sayain pride and keeps working for becoming the best in the universe.
Q6) How has crowdfunding helped you? What personal benefits has it brought you?
Mentally has helped me so much, seeing the amount of people that actually believe in what I love and how much support they want to give and help in any way possible really put me in a mindful state and cannot thank everyone enough. I'm forever grateful and I'm really in this sport to show that anybody can be what they want, they just need to make the right choice sacrifice and believe which my new coach/mentor/manager I have been under for only less than 3 months has done more for me than anyone else and makes me believe and gives me that opportunity of life to go out and chase for my dreams.
Q7) How has/is MAKEACHAMP helped/helping you achieve your goals?
Make A Champ is amazing! I highly recommend to anyone 110%! My coach was the one who directed me towards it for my trip to Europe to fight for my country and represent my team and family and friends. He told me about it and at first I don't really have any faith or belief with it but I gave it a whirl and made a change to believe and making changes has never benefited more than it has the past 6 months and I don't regret any changes I've made. Make a Champ really helped me show that a lot of people believe in me and want me to succeed. Not only am I succeeding but everyone else in my life is as well.
Q8) Do you have any tips for a successful crowdfunding campaign?
Just be honest. Pour your heart out to your life story, it took me 3 days properly write it and I kept erasing and writing erasing changing and everything. You need to really sit down take a deep breathe and just think of everything that you have been through that has made you come this far to chase your dream, and once people see how much time and sacrifice you put, it truly makes a difference. People will read it, that's a promise. I was a doubter, and now I'm a firm believer.
Q9) What is your favourite TV show and why?
I have 3. Dragon ball z because of the martial arts in it, it's literally eating food fighting and getting beaten up, but never giving up or stopping, just pushing forward to achieve the next level of greatness.
Arrow: same thing, Oliver queen was a party animal drank did drugs slept with hundred of women cheated, until his life changed being stranded on an island for 5 years, making sacrifices to survive and choice never to give up even when you fail.
And last is The Flash. Everyone of these shows has a story to tell about starting from somewhere and achieving greatness and working towards success. It shows that it's not an easy road and that you are on a different path with the rest of the world. It shows its a very hard slope and that failure is on that road, but every part of failure later passed through and driven into success which that split second of success is worth every day of failure.
Q10) What is your favourite band/music artist and why?

I love Eminem tech ny9ne and Hopsin. They all speak of struggle truth and how hard it is in life with relationship friends family and the way society is. But in order to pass by it and be on top, you need to embrace it accept and keep going no matter what.
Q11) What is your favourite food/snack?
Pizza!!! Hahaha I can eat that every day, and burgers I'm in love with a thick juicy burger with cheese bacon and lettuce. When I have my off days of cheats, I love chocolate, Hershey's cookies and cream, Reeses, Ferrero Roche, and kit Kat. I love candy as well lol like sour water melon and fuzzy peaches and sour apples lol. If I ever stop fighting and training I Know I'm gonna be completely obese ahhaha which is why I keep a clean died and struggle and always remind myself why I'm doing this. Ohhh and cheesecake hehehe can't say no to that:)
Check out his campaign page: https://makeachamp.com/benfouladi/23215